Garden Room Order Process
An Initial Conversation - Its Free!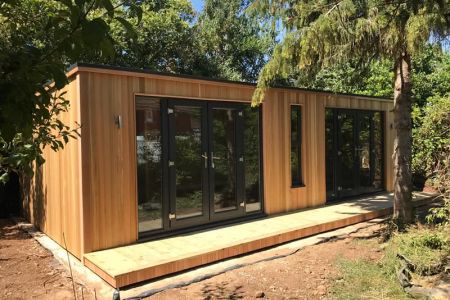 An initial conversation is a great place to start. You can ask as many questions as you like and we can give you advice on all the different aspects. Our staff have a wealth of knowledge about garden rooms and they are happy to share it with you.
It wont cost you a penny to call us!. Our Freephone 0800 170 1274 telephone number is free to call from either a mobile phone or landline.
Alternatively you can Contact Us with any querries or questions.
No Obligation Fixed Price Quotation!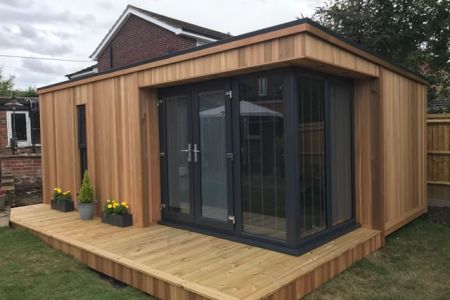 Let us know what you what space requirements you need and we will give you a no obligation fixed price quotation for the whole project.
We will also send you our colour brochure and information pack which includes all our garden room designs and the different options available.
Alternatively you can request a Free Colour Brochure & Price List.
Free Site Survey!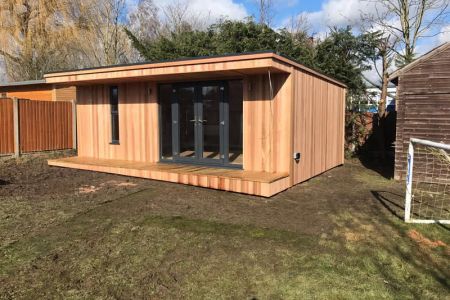 We can also arrange for our surveyor to carry out a free site survey. The site survey gives us the chance to see your outside space, to learn a bit more about you and to really understand what it is you are ideally looking for. Our survey costs you nothing and is undertaken by an experienced member of our team, not a salesman.
You can discuss your requirements with the surveyor and he can also check the site area for suitable access and construction.
You can also book a free no obligation Site Survey online.
Additional Information
Permitted Development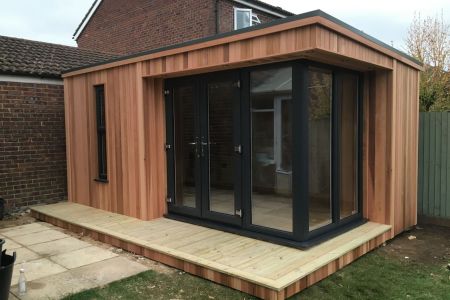 The majority of our garden rooms are constructed under the current permitted planning development regulations. Under the current permitted rules the garden room should be constructed at the rear of your property and should not take up more than half of your total garden area.
Planning permission would be required for those customers living in A National Park, An Area of Outstanding Beauty, A Conservation Area, The Broads and A World Heritage Site.
Learn more about the Permitted Development rules.
Garden Room Distance From Boundaries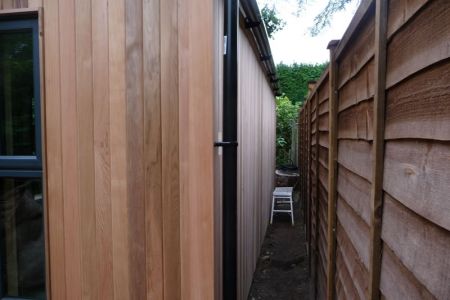 Garden rooms up to 2.5m roof height and under 15 square metres internal floor area are required to be located at least 0.5 metre from any boundary.
Garden rooms up to 2.5m roof height and over 15 square metres internal floor area are required to be located at least 1 metre from any boundary.
Construction Area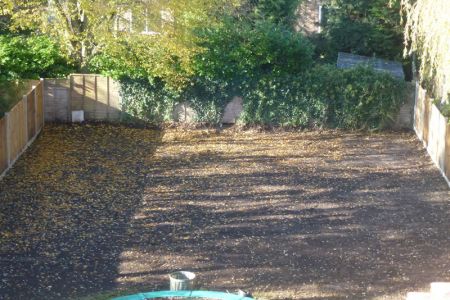 In order for our construction team to build your garden room we require the site area to be clear of any obstacles. For example the exact construction area need to be clear of any trees, sheds, rocks or other items.
The exact area where your garden room is to be constructed needs to be firm ground and does not have an excessive slope.
All prices on our website include our steel and concrete foundation system which is suitable in the vast majority of all garden room constructions.
Site Access And Vehicle Parking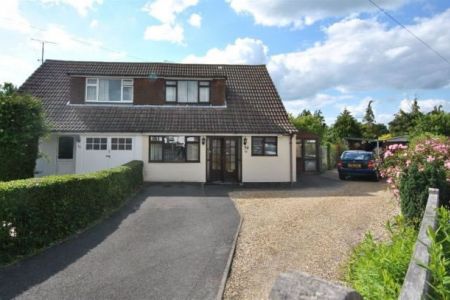 Our construction team does require some form of parking at your property. We will require parking for at least one large van at or near to your property. In addition the construction team will require access from the vehicle to the specific site area. Unfortunately we cannot move all the garden room components (eg roof sheets and patio door sections) through a house or very tight access area.
The construction team will stay in local accommodation during the garden room build until completion.
Garden Room Deposit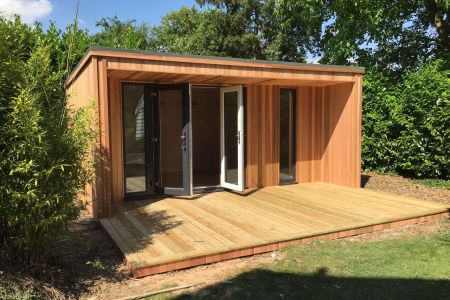 Once you have chosen a specific garden room design including any specific options, please contact us to place your order. Our friendly and knowledgeable staff will provide you with any specific information that you may require prior to ordering.
Once an order is placed, we require a 50% deposit amount of the total order value. Once the 50% deposit has been paid, we will issue a receipt and full confirmation of the garden room order placed.
Construction Start Date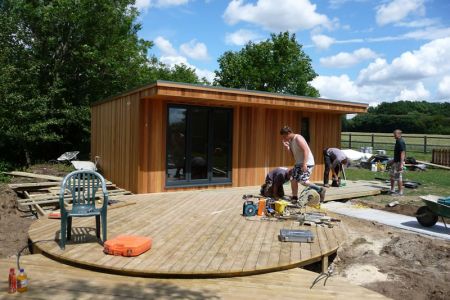 The construction teams normally start each new garden room build on a Monday. Please note that as we cover the whole of the United Kingdom it is more than likely that the construction team will arrive at your location in the afternoon of the first day. The construction team will stay in local accommodation until your garden room is completed.
Once the construction team has arrived they will confirm the exact location of the garden room build and where the specific door and windows are to be positioned. The first job for the construction team will be unload the garden room materials and install the steel and concrete foundations system.
Garden Room Construction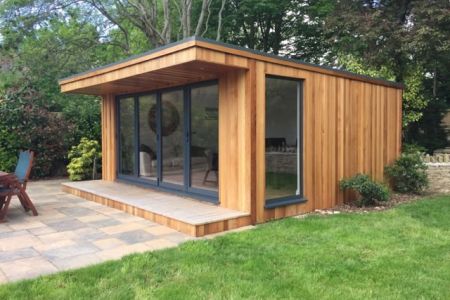 All our construction teams have years of experience at building garden rooms and know all the specific in and outs of building a fantastic garden room. During the garden room build the team will consult with you at every stage of the construction.
We offer a truly bespoke construction service and during each build you will be able to decide exact location of any doors, windows, electrical sockets, lighting and any optional extra you may have chosen. Our unique timber framed construction process is totally flexible and allows you to make changes during construction without the worry beforehand.
Garden Room Completion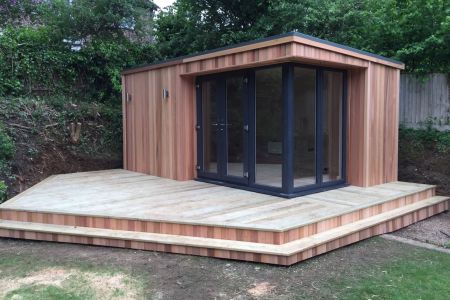 Once your garden room is completed our construction team will clean the garden room and remove any excess materials from site. You will be asked to inspect your new garden room and sign off the works. On completion of the garden room the remaining balance payment will be due less a £500.00 retainer until our electrician has visited your premises.
Our electrician will visit and test all the electrical components and wiring and provide a Part P electrical certificate in readiness for a mains electrical connection from your house to the garden room. You can choose your own electrician for the mains electrical connection or we can provide you with a quote to carry out the works.